BMW Check Control CCID Codes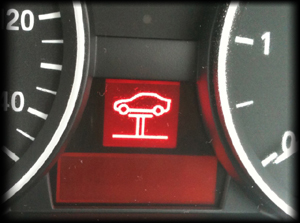 Many Modern BMWs now include a full range Check Control System. The early BMW Check Control System involved monitoring the resistance of the vehicle lighting, and could report a blown bulb instantly. Corrosion at the bulb socket may also trigger error warnings, so remember to check the bulb itself along with it's operation. As the vehicle electrical system became more complex, more systems were added into Check Control, from simple door warnings, to a far more integrated system used today. With a variety of Data Buses used, fault information in individual modules could be passed to other systems that may depend on them. This allows a Check Control System to be added into the Data Bus, which is able to show faults to the driver. Although still not as useful as full diagnostics, it does represent a great leap in fault handling, compared to previous "Check Engine" warnings.

How To Access Check Control Messages

Flick the BC (Board Computer) Stalk up or down until CHECK CONTROL appears, then press the BC button on the end of the stalk. Flick up or down to scroll through multiple messages. On a particular message, Press and hold the BC button for approx. 2 secs. This will show the CCID code. To Exit the system, press the BC button again. The codes listed below are grouped into the modules that created them, but there will only be one number for a fault over the entire system. This means the if you see CC-35 (DSC Failure), There is only one fault that will cause it, and seperate modules will not share a number. Press Ctrl+F to search within the page to find your code.

Yellow lights serve to draw your attention to an upcoming service, or a sporadic fault which may require extra care with regards to the system that triggered it, and something to be looked at closer. Red lights suggest a failure in a system which may require immediate attention. Common symbols include Service reminders, Inspection reminders (visible in the picture above), or a pictogram of the system which has a fault. A double S symbol, § indicates a service station inspection, such as an MOT test or other yearly inspection.
BMW CCID Code List

Active Cruise Control

ACC 158 Active Cruise Control Disabled, Sensor Error
ACC 238 Active Cruise Control Disabled, Hill Descent
ACC 441 Cruise Control Deactivated
ACC 442 Vehicle may Roll Away
ACC 443 Vehicle Rolling Away
ACC 483 Active Cruise Control Temporarily Disabled


Crash Safety Module
ACSM 76 Crash Safety Module
ACSM 434 Seat Calibration Required


Active Front Steering
AFS 70 Servotronic Failed
AFS 273 Active Steering Fault
AFS 321 Active Steering Deactivated


Trailer Module
AHM 4 Trailer Parking Light Left
AHM 5 Trailer Parking Light Right
AHM 6 Trailer Indicator Left
AHM 7 Trailer Indicator Right
AHM 8 Trailer Brake Lights
AHM 9 Trailer Fog Light
AHM 75 Trailer Electrics Failed
AHM 90 Trailer Reverse Light
AHM 403 Trailer Rear Light/Numberplate Light
AHM 404 Trailer Left Indicator/Brake Light
AHM 405 Trailer Right Indicator/Brake Light
AHM 406 Trailer Electric Brake Failed
AHM 423 Trailer Coupling Lock
AHM 449 Trailer Coupling Electrics Failed


Dynamic Drive
ARS 10 ARS Roll Malfunction
ARS 11 Steering Malfunction
ARS 12 Dynamic Drive Failed
ARS 204 Dynamic Drive Disabled


Car Access System
CAS 14 Door Open F/R
CAS 15 Door Open F/L
CAS 16 Door Open R/L
CAS 17 Door Open R/R
CAS 18 Bonnet open
CAS 19 Boot open
CAS 21 Ignition Problem, Depress Brake to Start
CAS 22 Starter Problem, Engine cannot Restart
CAS 38 Wrong Remote Key
CAS 40 Press Brake to Start
CAS 65 Change Key, Key Battery Low
CAS 66 Remote Control/Key Fault
CAS 67 Remote Control/Key Battery Discharged
CAS 68 Remote Key Stationary Function Battery Low
CAS 186 ELV Steering Lock Fault. Engine cannot be restarted
CAS 187 ELV Steering Lock Active. Move Steering Wheel to Restart
CAS 205 Remote Key not Present
CAS 206 Engine Start on next Press
CAS 208 Comfort Access Deactivated
CAS 209 Remote Key in Vehicle, Locking not possible
CAS 217 No Remote Control
CAS 303 Depress Clutch to Start
CAS 335 Ignition Switched On
CAS 347 Position R/N/D Not Possible
CAS 348 Engage Park Before Leaving Vehicle
CAS 349 Engage Park Before Switching Ignition Off
CAS 413 Steering Column Unlocked
CAS 811 Bonnet Open or Unlatched


Convertible Top Module
CTM 267 Rear Window Drive
CTM 268 Luggage Compartment Position
CTM 270 Convertible Top Not Locked
CTM 271 Convertible Top, Vehicle Speed
CTM 272 Convertible Top Failure
CTM 401 Roof Mechanism Failure
CTM 416 Luggage Compartment Partition
CTM 432 Roof Drive Overload
CTM 445 Vehicle Not Level
CTM 516 Roof Operation Cancelled
CTM 518 Convertible Top Not Locked
CTM 519 Roof Operation Not Possible
CTM 558 Roof Position Detection
CTM 559 Roof Drive Overheated
CTM 560 Roof Operation Not Possible
CTM 561 Roof Emergency Operation
CTM 562 Roof Unlocked


Dual Clutch Gearbox
DKG 538 Gearbox Malfunction
DKG 539 Gearbox Malfunction 5-7
DKG 540 Gearbox Malfunction P
DKG 541 Gearbox Malfunction Manually Release Parking Lock


Digital Motor Electronics/Digital Diesel Electronics
DME/DDE 25 Preheating, Please Wait
DME/DDE 26 Cruise Control Defective
DME/DDE 27 Engine Oil Level Low
DME/DDE 28 Engine Oil Level Below Minimum
DME/DDE 29 Engine Problem, Power Reduced
DME/DDE 30 Engine Problem, Stop Engine
DME/DDE 31 Engine Problem, Increased Emissions
DME/DDE 32 Fuel Cap Open
DME/DDE 33 Engine Problem, Reduce Engine Load
DME/DDE 39 Engine Overheat, Stop Engine
DME/DDE 49 Particulate Filter Malfunction
DME/DDE 148 Brake Light Control Failed
DME/DDE 182 Oil Level Sensor Malfunction
DME/DDE 212 Engine Oil Pressure, Stop Engine
DME/DDE 213 Battery Not Charged
DME/DDE 220 Battery Discharge Rate High
DME/DDE 229 Battery Charge Low
DME/DDE 247 Battery Monitoring Failed
DME/DDE 257 Engine Temperature Too High, Drive Moderately
DME/DDE 304 Check Battery Condition
DME/DDE 305 Check Battery Terminals
DME/DDE 306 Battery Charge Low
DME/DDE 367 Engine Temperature Too High
DME/DDE 400 Engine Oil Level High
DME/DDE 427 Engine Oil Pressure Low
DME/DDE 448 Fuel Filter
DME/DDE 450 Automatic Start Deactivated
DME/DDE 492 AdBlue Reserve Low
DME/DDE 493 AdBlue Reserve Critical
DME/DDE 493 AdBlue Reserve Empty
DME/DDE 506 AdBlue Fluid Incorrect
DME/DDE 584 Transport Mode Active


Dynamic Stability Control
DSC 24 DBC Dynamic Brake Control Brake Assist Failed
DSC 35 DSC Failed
DSC 36 DSC/DTC Deactivated
DSC 42 DSC Control System/Ride Height adjustment
DSC 50 Runflat Indicator Failed
DSC 63 Tyre Failure
DSC 71 Brake Pads Worn
DSC 74 Brake Fluid Low
DSC 184 Dynamic Traction Control Active
DSC 215 Dynamic Stability Control
DSC 236 Brake and Stability Systems Failure
DSC 237 Stability Systems Failure
DSC 328 Brake Pad Wear Sensor
DSC 330 Hill Decent Control not Available
DSC 331 Hill Decent Control Active
DSC 332 Hill Decent Control Deactivated
DSC 333 Hill Decent Control not Possible
DSC 334 Run Flat System Requires Standardisation
DSC 336 Dynamic Stability Control
DSC 352 Brakes Too Hot
DSC 353 Brakes Overheated
DSC 354 Start Assist Inactive
DSC 364 RPA Initialisation
DSC 382 DSC Restricted, Brake Pressure Sensor
DSC 384 DSC Puncture Detected
DSC 431 Brake Loading Too High
DSC 608 Tyre Pressure Loss, Front Left
DSC 609 Tyre Pressure Loss, Front Right
DSC 610 Tyre Pressure Loss, Rear Right
DSC 611 Tyre Pressure Loss, Rear Left


Corner Brake Control
DSC/CBC 42 Brake and Driving Control Failure


Tyre Pressure Control
DSC/RPA 50 Tyre Monitoring Failure
DSC/RPA 63 Tyre Puncture


X Drive Control
DXC 350 4X4 System Failure
DXC 351 4X4 and DSC Failure
DXC 369 4X4, DSC and ABS Failure
DXC 370 4X4, DSC, ABS and EBV Failure


Dynamic Damper Control
EDC-K 43 Dynamic Damper Control Failed
EDC-K 180 Dynamic Damper Control Fault


Electronic Gearbox Control/Sequential Sports Gearbox
EGS/SSG 103 Gearbox Overheating- Drive with Care
EGS/SSG 104 Gearbox Overheating- Reduced Output
EGS/SSG 105 Gearbox Overheated - Stop Vehicle
EGS/SMG 168 Transmission Malfunction
EGS/SMG 169 Transmission Position N
EGS/SMG 170 Transmission Malfunction Reset
EGS/SSG 171 Transmission Failsafe Active
EGS/SSG 172 Transmission Malfunction
EGS/SMG 173 Transmission Position D Only
EGS/SMG 174 Transmission Position P Only
EGS/SMG 175 Transmission Malfunction, Position P
EGS/SSG 178 Transmission in Neutral, Engage Parking Brake
EGS/SSG 179 Transmission Malfunction
EGS/SMG 203 Transmission Position in N
EGS/SSG 248 Brake Signal Malfunction, Gears May Be Selected Without Brake
EGS/SSG 250 Brake Signal Malfunction, Gears May Be Selected Without Brake
EGS/SMG 251 Transmission Position P
EGS/SMG 252 Transmission Malfunction
EGS/SSG 254 Transmission Malfunction Emergency Program
EGS/SSG 255 Malfunction R,N,D Only With Engine Running
EGS/SSG 287 Clutch Overheated
EGS/SSG 288 Transmission Malfunction, Failsafe Activated
EGS/SSG 289 Transmission Malfunction, Failsafe Activated
EGS/SSG 290 Transmission Malfunction, Journey May Be Continued With Care
EGS/SSG 291 Transmission Malfunction, Failsafe Activated
EGS/SSG 292 Transmission Malfunction, Re-Select Gear
EGS/SSG 293 Press Brake and Select Neutral to Start
EGS/SSG 302 Park Not Engaged
EGS/SSG 307 Transmission Malfunction, Multiple Failures
EGS/SSG 322 Transmission Teach-in Active
EGS/SSG 323 Clutch Teach-in Active
EGS/SSG 325 Transmission in Neutral
EGS/SSG 326 Transmission in Drive
EGS/SMG 363 Transmission Overload
EGS/SMG 365 Transmission Failsafe
EGS/SMG 366 Transmission Fault, Failsafe
EGS/SSG 368 Transmission Failsafe Active
EGS/SMG 394 Gear Selector Lever
EGS/SMG 398 Engine Bay Cover Open
EGS/SMG 399 SMG State Undetermined
EGS/SSG 419 Drive Malfunction
EGS/SSG 420 Transmission Malfunction
EGS/SMG 446 Launch Control
EGS/SMG 557 Rolling Possible, Secure Vehicle
EGS/SMG 565 Gearbox Position P only Available when Stationary


Electro Hydraulic Brake
EHB 439 Parking Brake Overload
EHB 452 Release Autohold


Electronic Height Control
EHC 45 Level Control System Failure
EHC 245 Level Control System Failure


Electric Fuel Pump
EKP 216 Fuel Pump Fault
EKP 309 Fuel Pump Malfunction


Parking Brake
EMF 48 Parking Brake
EMF 51 Parking Brake Overheated
EMF 52 Parking Brake Failed
EMF 53 Automatic Hold Malfunction
EMF 54 Parking Brake Malfunction
EMF 55 Parking Brake Release
EMF 56 Parking Brake
EMF 57 Parking Brake
EMF 58 Parking Brake
EMF 201 Automatic Hold Disabled
EMF 210 Parking Brake Failed
EMF 211 Parking Brake Failed
EMF 239 Parking Brake Failed
EMF 240 Parking Brake Failed
EMF 241 Parking Brake Failed
EMF 242 Parking Brake Failed
EMF 243 Parking Brake Failed
EMF 253 Parking Brake Failed
EMF 395 Parking Brake Malfunction
EMF 402 Apply Foot Brake
EMF 410 Parking Brake Malfunction
EMF 465 Parking Brake Failure
EMF 480 Parking Brake Malfunction
EMF 481 Parking Brake Malfunction
EMF 482 Parking Brake Failure


Electronic Power Steering
EPS 73 EPS Inoperative
EPS 385 Steering Assistance Failed


High Beam Assistant
FLA 374 Main Beam Assist Defective
FLA 375 Main Beam Assist Not Active
FLA 376 Main Beam Assist Not Active
FLA 377 Main Beam Assist Sensativity


Footwell Module
FRM 87 Right Rear Light Failure
FRM 88 Dipped Beam Left Failure
FRM 89 Dipped Beam Right Failure
FRM 111 Number Plate Light Left Failure
FRM 113 Sidelights Switched On
FRM 114 Rear Fog Light Failure
FRM 115 Reverse Light Right Failure
FRM 116 Indicator Rear Left Failure
FRM 117 Reverse Light Left Failure
FRM 118 Rear Light Right Failure
FRM 119 Indicator Front Right Failure
FRM 120 Dipped Beam Left Failure
FRM 121 Dipped Beam Right Failure
FRM 122 Indicator Front Right Failure
FRM 123 Rear Light Right Failure
FRM 124 Indicator Right Failure
FRM 125 Indicator Rear Right Failure
FRM 126 Fog Light Right Failure
FRM 127 Side Indicator Left Failure
FRM 128 Left High Beam Failure
FRM 129 Rear Fog Light Failure
FRM 130 Right High Beam Failure
FRM 131 Parking Light Left Front Failure
FRM 132 Front Right Side Light Failure
FRM 133 Right Rear Light Failure
FRM 134 Right Brake Light Failure
FRM 135 Centre Brake Light Failure
FRM 136 Left Brake Light Failure
FRM 137 Number Plate Light Right Failure
FRM 138 Fog Light Left Failure
FRM 196 Indicator Front Right Failure
FRM 197 Indicator Front Left Failure
FRM 231 Light System Failure
FRM 256 Headlight Leveling System Failure
FRM 259 Window Anti-Trap Deactivated
FRM 261 Window Anti-Trap Failure
FRM 345 Brake/Tail Light Failure Right
FRM 346 Brake/Tail Light Failure Left
FRM 371 Number Plate Light Failure
FRM 372 Brake Force Display Light Failure Left
FRM 373 Brake Force Display Light Failure Right
FRM 378 Sidelight/Daytime Lights Defective- Left
FRM 379 Sidelight/Daytime Lights Defective- Right
FRM 380 Turn Signal Lights Defective- Left
FRM 381 Turn Signal Lights Defective- Right
FRM/ALC 295 Adaptive Cornering Lights Failure
FRM 437 Parking Lights On
FRM 490 Parking Assist Failure, Parking Assist Aborted


Gear Selector Switch
GWS 393 Gear Selector Position
GWS 467 Gear Selector Malfunction/Locking


Luggage Compartment
HKL 422 Luggage Compartment Lower Lid


Hybrid
HYBRID 569 Drive Malfunction, Stop
HYBRID 570 Drive Range Low
HYBRID 571 Drive, Only Forward Crawling Speed is Possible
HYBRID 572 Drive, Only Forward and Reverse Crawling Speed is Possible
HYBRID 573 Gearbox Malfunction
HYBRID 574 No Braking Energy Reclamation
HYBRID 575 Refueling- Wait
HYBRID 576 Refueling Only Possible When Standing
HYBRID 577 Refueling Possible
HYBRID 578 Fuel Filler Flap Open
HYBRID 579 Fuel System Malfunction
HYBRID 585 High Voltage System Malfunction
HYBRID 586 High Voltage System Malfunction
HYBRID 587 High Voltage Battery Low
HYBRID 588 High Voltage Battery, Switch Ignition on to Charge
HYBRID 589 High Voltage Battery Charging
HYBRID 590 Vehicle Ready
HYBRID 591 High Voltage Battery Charging Aborted
HYBRID 606 High Voltage Battery Output Restricted
HYBRID 607 High Voltage Battery Regeneration Required


Intergrated Chassis Management
ICM 474 Driving Performance Control Failed


Instrument Cluster
IKE 13 Radio Key in Lock
IKE 41 Service Due
IKE 55 Parking Brake Active
IKE 60 Speedometer Failure
IKE 62 Vehicle Speed Limit Exceeded
IKE 78 Vehicle Speed Limit Exceeded
IKE 79 Low External Temperature
IKE 165 Low External Temperature
IKE 167 Reset Clock
IKE 185 Gear Indicator Failed
IKE 275 Low Fuel
IKE 279 Driver's Seat Insecure
IKE 280 Passenger's Seat Insecure
IKE 281 Service Due
IKE 282 Instrument Cluster
IKE 283 Instrument Cluster
IKE 284 Service Overdue
IKE 285 Service OK
IKE 286 Fuel Low / Range
IKE 301 Seatback Monitoring Failed
IKE 308 Parking Brake Applied
IKE 999 Instrument Cluster Fault


Junction Box
JB 164 Windscreen Washer Fluid Low
JB 166 Engine Coolant Level Low
JB 183 Windscreen Wiper Malfunction
JB 207 Central Electronics Failure, Stop Vehicle
JB 415 Battery Discharge Rate High
JB 430 Transport Mode Active


Longitudinal Dynamics Management
LDM 1 Active Cruise Control Disabled, Poor Conditions
LDM 2 Active Cruise Control Disabled, Poor Signal
LDM 3 Active Cruise Control Failure
LDM 59 Active Cruise Control Disabled, Parking Brake
LDM 69 Active Cruise Control Disabled, Speed too Low
LDM 85 Active Cruise Control Disabled, Hill Descent
LDM 176 Active Cruise Control Disabled, Sensor Error
LDM 177 Active Cruise Control Malfunction
LDM 199 Cruise Control Failed
LDM 246 Active Cruise Control Disabled, Speed too Low
LDM 276 Engine Speed Too High
LDM 277 Active Cruise Control Disabled, Gear Selection
LDM 278 Engine Speed Too Low
LDM 337 Dynamic Cruise Control Failure
LDM 338 Dynamic Cruise Control Deactivated, Parking Brake
LDM 339 Dynamic Cruise Control Deactivated, Excessive Braking
LDM 340 Dynamic Cruise Control Deactivated, Poor Conditions
LDM 341 Dynamic Cruise Control Deactivated, Gear Selection
LDM 342 Dynamic Cruise Control Deactivated, Speed Too Low
LDM 453 Cruise Control Short Range Sensors Disabled
LDM 454 Cruise Control Short Range Sensors Soiled
LDM 469 Cruise Control Deactivated, Sensors Soiled
LDM 478 Cruise Control Deactivated, Radio Astronomy Intervention


Electric Sunroof
MDS 260 Sunroof Anti-Trap Deactivated
MDS 262 Sunroof Anti-Trap Failure


Multiple Restraint System
MRS 46 Fasten Seat Belt
MRS 91 Fasten Seat Belt
MRS 92 Front Passenger Seat Belt Pretensioner Fault
MRS 93 Driver's Seat Belt Pretensioner Fault
MRS 94 Rear Left Seat Belt Pretensioner Fault
MRS 95 Rear Right Seat Belt Pretensioner Fault
MRS 97 Multiple Restraint System Fault
MRS 106 Rear Left Side Airbag Fault
MRS 107 Rear Right Side Airbag Fault
MRS 108 Driver's Airbag Fault
MRS 109 Passenger Airbag Fault
MRS 181 System Check Failed
MRS 266 Rollover Protection Malfunction
MRS 389 Fasten Driver's Seat Belt
MRS 390 Fasten Passenger's Seat Belt
MRS 391 Multiple Restraint System
MRS 392 Fasten Seat Belt
MRS 612 MRS Acceleration Sensors


Night Vision Control
NVC 356 Night Vision Failure


Park Distance Control
PDC 195 Park Distance Control Failure


Reversing Camera
RFK 424 Reversing Camera Soiled
RFK 425 Reversing Camera Failure


Tyre Pressure Control
RDC 139 Front Left Tyre Pressure
RDC 140 Rear Right Tyre Pressure
RDC 141 Rear Left Tyre Pressure
RDC 142 Check Tyre Pressures
RDC 143 Front Right Tyre Pressure
RDC 144 Tyre Pressure Monitoring Fault
RDC 145 Tyre Pressure Monitoring Deactivated
RDC 147 Tyre Puncture Detected
RDC 149 Tyre Pressure Monitoring Failure
RDC 192 Tyre Pressure Monitoring Deactivated, System Initialising
RDC 265 Check Tyre Pressures, Mismatch
RDC 327 Tyre Pressure Monitoring Deactivated, System Initialising


Sensotronic Braking Actuation
SBA 601 Braking System Malfunction
SBA 602 Braking System Malfunction
SBA 603 Braking System Sensor Malfunction
SBA 604 Braking System Failure


Seat Module
SIMO 436 Seat Position Detection Fault


Telecommunications Module
TCU 296 SOS Deactivated, Check Phone
TCU 297 BMW Assist Deactivated
TCU 298 BMW Assist Not Possible
TCU 299 SOS Call System Failure
TCU 300 BMW Assist Deactivated, Check SIM.


Time to Line Crossing
TLC 435 Lane Departure Warning Fault


Video Switch
VSW 428 Side Camera Defective